I recently gave a talk on "Web 2.0: Implications For The Publisher" at a meeting organised by ALPSP. A fellow speaker was Terry Hulbert of IOPP. During lunch Terry and I discussed how we both enjoy seeing slides and demonstrations from fellow speakers who are advanced users of FireFox, as this can provide an opportunity to learn about cool new FireFox extensions. Terry noticed two of my extensions that he'd not come across. A few days after the meeting I received an email from Terry saying:
"Downloaded the Blogger Web Comments and RSS Panel Firefox plug-ins – they rock !"
Terry's right – these are my favourite FireFox extensions. They are illustrated below.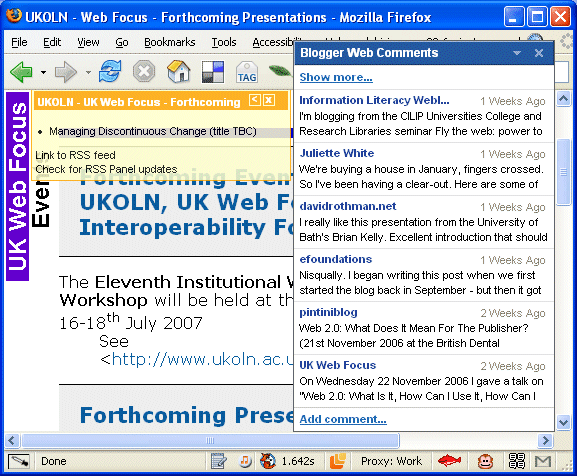 The RSS Panel Greasemonkey script (on the left) appears if a Web page contains an (autodiscovery) link to an RSS page. Initially it appears as a floating buy antibiotics online overnight window simply containing the title of the RSS feed. On opening the window access to all of the RSS links is available, as illustrated.
The Google Web Comments extension provides an interface to Google's Blog Search service. If a blog entry has links to a page you are viewing (or pages below it) an indication of this is displayed in the bottom right hand corner of the browser status bar. Clicking on the icon results in the title of the posting appearing, as illustrated. It was using the tools that I came across David Rothman's comments about a recent talk of mine.
The FireFox extension that Terry uses which I hadn't come across was
Colorful Tabs – which I must get round to installing.
You've now heard about our cool FireFox extensions – what are yours?