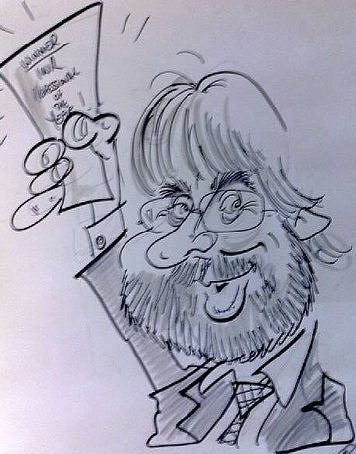 I'm pleased to report that a two-page feature article which describes my work activities on best practices for exploiting Web 2.0 has been published in Talis's Panlibus Newsletter (Issue 8, Spring 2008). Many thanks to the editorial team, Ceri McCall and Harpeet Kaur Dhillon, for their support – and I'm particularly pleased with the layout of the article, which includes a photograph of myself receiving the IWR award and the cartoon which was drawn the following day.
I must admit that I am a fan of the Talis newsletter (I should probably disclose that I know both of Talis's Technology Evangelists: Paul Miller, who used to work at UKOLN, and Ian Davis). Although it is perhaps surprising that there doesn't appear to be an online version of the newsletter available. Correction a PDF version is available. The article is on pages 6-7.
The current issue (which runs to 26 pages) includes feature articles from Chris Banks, the Librarian at the University of Aberdeen (on the future of the library) and Christopher West, Director of Library and Information Services at Swansea. As always, Paul Miller has written an excellent article entitled "Unlock the power of shared data" – and for those with an interest in open data I'd recommend subscribing to his Panlibus and Nodalities blog.
But the article I found of most interest was written by Dame Lynne Brindley. In her article in developments in The British Library Lynne reporting that her organisation is "adapting to the 'wiki' view and the 'beta' mindset of the digital world and engaging more with the needs of the 'Millenials'. … We are encouraging a more participative approach through co-created experiences, user-created content, remixing services and social networking spaces. We have established Facebook groups, posted relevant videos on YouTube and are experimenting with he possibilities offered by Second Life and MySpace".
UKOLN is hosting its 30th anniversary event at the British Library next week, with Dame Lynne Brindley as one of the guest speakers. I'm very pleased that the work of myself and my colleagues at UKOLN is so closely aligned with the thinking at The British Library. My only regret is that I won't be able to attend the event as I'll be participating at the Museums and the Web 2008 conference next week.